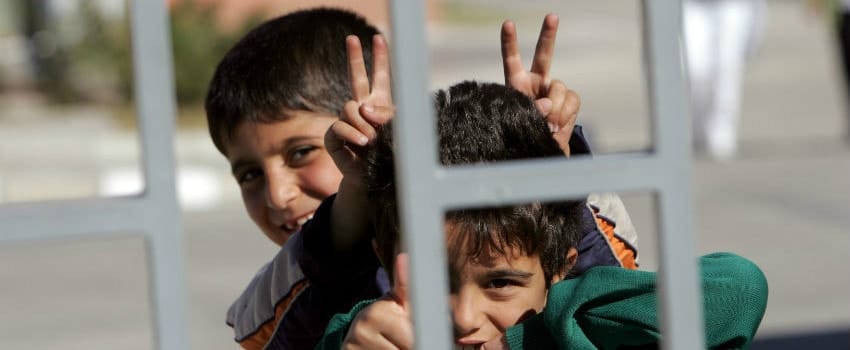 Save The Children Urges Authorities In Lebanon To Stop Evicting Syrian Refugees
Save the Children says the eviction of 6,000 Syrians including what is believed to be as many as 3,200 children who live on the outskirts of Beirut must be stopped immediately. According to the aid agency in recent weeks, refugees that had been renting private accommodation in the al-Hadath neighbourhood received eviction notices from local authorities, informing them that they had just 10 days to leave their homes because they had allegedly violated Lebanon's labour laws.
Facing intense pressure to leave
At present as many as 28 families have been forced to leave and few have found an alternative place to live. Those who have decided to remain are appealing the decision by say they are facing intense pressure to leave and worry that they will be thrown out on to streets in the immediate future. Residents who received eviction notices say they were told to leave because Syrians were not welcome in the area. Many have said they decided to move before being kicked out.
Children being placed at risk
This is the first-time eviction notices have been issued to Syrian residents of the neighbourhood but it does come at a time when calls are growing for refugees to return to Syria. The evictions risk putting children that are already very vulnerable in more danger as families face the prospect of ending up on the street as the harsh winter descends. These evictions will also force many children to drop out of school and will impact their physical and psychological well-being.
Homeless and destitute
Allison Zelkowitz, Save the Children's Country Director in Lebanon says if authorities do not stop the evictions, the children may well become homeless and destitute, losing what little sense of safety and normality they had to begin with. She adds that Lebanon welcomed these children more than six years ago, offering them a place of refuge and there is no question that the country has been extremely generous and has fulfilled all its obligations under the UN Convention on the Rights of the Child. Nevertheless, it should not turn its back on these children now.
International donors have failed Lebanon
Ms Zelkowitz says that Lebanon should ensure that these children continue to remain protected and should not throw them out onto the streets. Save the Children is calling on both municipal and national authorities to immediately cease these evictions before more children are put at risk. Since conflict erupted in Syria, Lebanon absorbed more than a million registered refugees who now account for as much as 30 per cent of the country's population. International donors have simply not done their bit in supporting host countries, with less than 50 per cent of the regional refugee response having been funded.
Comments are closed