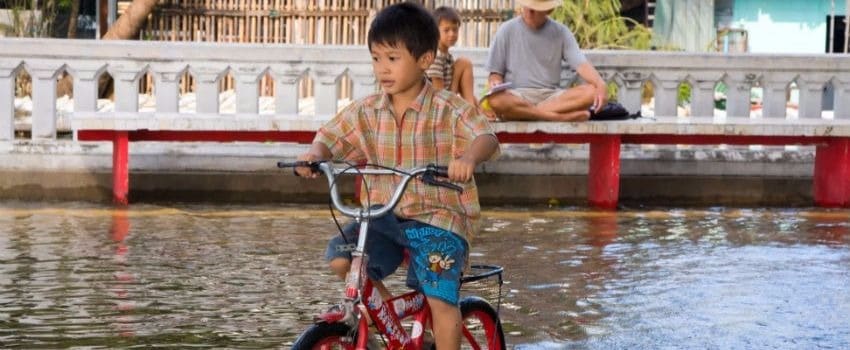 Despite Lack Of Funds Concern Working Hard To Deliver Aid To Those Affected By Flooding In Nepal
More than 150,000 families in Nepal have been displaced by severe flooding which has also caused the deaths of at least 141 people. More than 65,000 homes have been destroyed by the worst floods seen by the country in years. In Nepal's Southern belt where the vast majority of the country's agriculture is based was the area that was worst affected by torrential rains last month.
The situation is bad
Concern Worldwide's Nepal Country Director, Eileen Morrow witnessed the devastating aftermath first-hand.  Ms Morrow said she walked around one village in Rautahat which is one of Nepal's worst affected areas and saw houses that had collapsed in on themselves.  She added that the muddy water line caused by the flood exceeded six feet on some of the buildings including the local school. One woman told Ms Morrow that it was fortunate the flooding occurred on a Saturday or they would have lost half the children.
Livelihoods have also been affected
The flooding has not only damaged people's homes but has also affected their livelihoods. This means there will be a huge impact on how quickly people will be able to recover. Ms Morrow says she saw people trying to dry out their animal feed in the streets, unfortunately it had already started to rot. Many families had lost their livestock and the air was filled will with the smell of decomposing animals which is a huge health hazard. Grain stocks that used to be full to the brim are now nothing more than muddy rotting rice. Thousands of families face these problems in a part of Nepal which already suffers from very high rates of malnutrition.
Concern's response
The problem is that is extremely difficult to fund the response to the flood and donors have been slow to give money to finance the recovery from this particular disaster. Despite this fact, Concern is working tirelessly to deliver relief to the worst affected. The aid agency is working closely with its local partners to provide food, water and aid to the most vulnerable. So far Concern has distributed food to over 11,600 families and the agency is making sure that families have water purification tablets so that waterborne disease do not spread.
Comments are closed